golden rule
This article originally appeared in the winter issue of the Independent magazine.
Since 2016, OGR's Young Professionals group has been meeting every spring for its annual event, but last fall they came together for the first time for a study group. OGR study groups consist of five to ten people who gather in a participant's funeral home for "ongoing study of successful business practices." Study group participants usually tour the host funeral home and provide constructive feedback on what they see. They also spend a day and a half exchanging ideas and working through challenges they're facing.
OGR firm Lakeside Memorial Funeral Home hosted the first young professional study group this past September. Seven OGR firms sent staff members to attend, so we sat down with a few to hear more about their experience.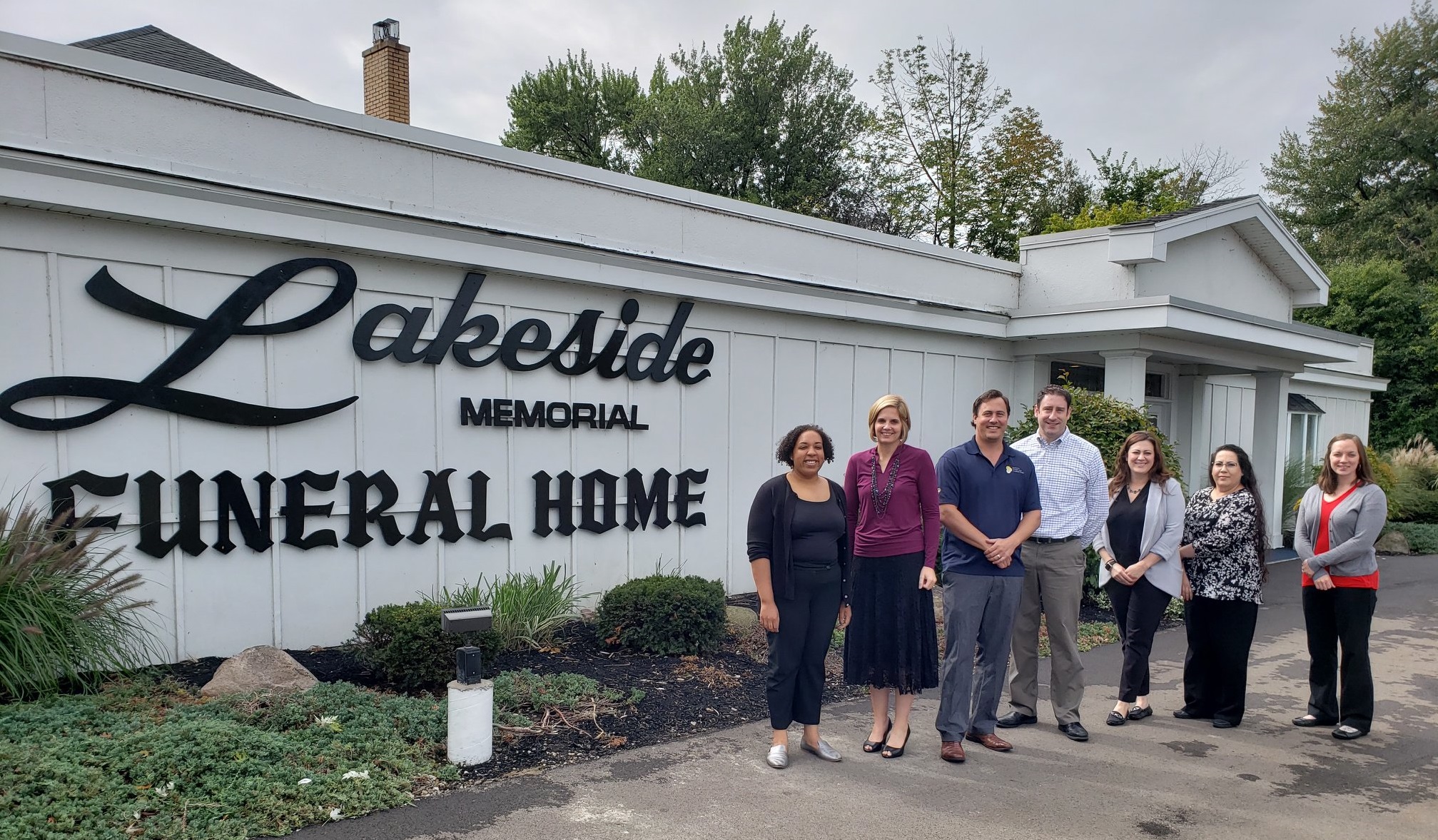 Read the rest of this entry »
Periodically, we'll highlight one of OGR's Golden Rule Funeral Homes and the amazing work they're doing in their communities. This week's spotlight is on John L. Ziegenhein & Sons (JLZ) in St. Louis, MO. The original article was featured in 2018 Fall edition of OGR's magazine The Independent.
John L. Ziegenhein, Sr., and his four brothers opened a new funeral home in South St. Louis in 1900— Ziegenhein Brothers Undertaking. In 1931, when John wanted to bring his wife and sons into the business, he started his own funeral home, John L. Ziegenhein & Sons (JLZ), at its present location in St. Louis City, MO. In 1995 a second location was opened in St. Louis County about 12 miles south of the original. After the passing of the last member of the Ziegenhein family, ownership was transferred to longtime employees. Roger Richie took ownership in 2006.
For nearly 90 years, the Order of the Golden Rule (OGR) has embarked on a mission to seek out and identify outstanding funeral homes around the world. Our members are independent, locally owned and operated firms dedicated to providing exceptional service to their client families. We call them Golden Rule Funeral Homes.
Not just any firm can join OGR. Those seeking membership go through a carefully developed screening process to assure both OGR and the public that member firms are of the highest quality.
To be a part of this prestigious group means a firm has distinguished itself in the following ways: Read the rest of this entry »
Have you ever thought that being in the funeral business would be a lot easier if it weren't for the people?
But, the reality is that if you are in the funeral business, you are in the people business.
The skills we use to manage ourselves and to respond to other people and situations play a big role in the success of our businesses. With client families, the skill set can include empathy, language free of industry jargon, and active listening. These skills aid in effective two-way communication so both parties have the same understanding and, especially, the same expectations. Having strong people skills builds trust between you and the families you serve.
By following a few simple steps to develop stronger people skills, you can ensure your messages are understood by those you serve, you will give better customer service and you will inevitably get repeat and referral calls. Read the rest of this entry »
September is National Suicide Prevention Month. Death from suicide provides a unique set of complications for the affected family, their friends, and the funeral service professionals who serve them. Offering comfort to the bereaved also becomes a bit more difficult. What should a friend or funeral director say? Is there anything to avoid mentioning? If you've lost a loved one to suicide, how should you respond?
Here are some tips for coping with the loss of a loved one to suicide and comforting the family of a suicide victim. Read the rest of this entry »
As a funeral director for over 30 years, I have been fortunate to help thousands of families through one of the darkest times in their lives. With September being National Suicide Prevention Month, I wanted to share a personal story with you on how suicide has touched the lives of my family.
It was a beautiful evening and I was sitting at the top of the Marriott Marquis in New York City at a cocktail party when my phone started to ring. It was my mother informing me my stepbrother had taken his life. In that moment, I knew I would have to put on a brave face since I was in a very public place. I equated it to the way President Bush must have felt when he was sitting in a classroom full of children when he was informed about 9/11. It was truly one of those heart-stopping moments. Read the rest of this entry »